Hampi-City In India the most well-known place in Karnataka, which is declared a UNESCO World Heritage Site. A must-visit place in India. Hampi is known for its beautiful architectural structure, temples, monuments, forts, history, and much more. Around 1500 AD, Hampi was known as the capital city of the Vijayanagar Empire.
At that time Hampi was the 2nd largest city in the world. Hampi is also known as Hampe & the group of amazing monuments at Hampi add wonders to its beauty. In this article, you will get to know everything about Hampi. From its history to mysterious tales behind Hampi temples, from forts to food, from things to do to places to visit everything about Hampi is worth learning.
Hampi is situated in the east-central part of the Indian state, Karnataka. This place was known as the capital city of the Vijayanagara Empire. Travelers know Hampi as the grand, prosperous & wealthy city of India. India during 1500 CE was the richest country and attracted many foreign traders. Hampi is located near Hosapete. Hampi is a major religious center, and the importance of temples in Hampi is described in Indian religious books like Ramayana.
This beautiful city is located near the Tungabhadra River, in the eastern part of the Indian state, Karnataka. The distance between Hampi from Bengaluru is 376 km. The nearest railway station to Hampi is in Hospet (Hosapete) which is 13 km away. The nearest airport is Jindal Vijaynagar Airport. It is around 32 km away. Tourists can also travel to Hampi by bus and train from Goa, and Bengaluru. Hampi traditionally is also known as Kishkindha-kshetra or Pampa-kshetra.
The rock edicts in the Bellary district of Emperor Ashoka suggested that Hampi was the Maurya Empires' part, during the 3rd century before the common era. Hampi had become a famous spot for educational & religious activities by the 10th century. Temples like the Durga temple were built after that. Later in the 14th century many ups and downs, and battles took place which resulted in the drastic change of Hampi.
Persian and Portuguese traders declared Hampi as "one of the most beautiful cities that is rich in infrastructure and prosperous as well. The battles continued and those battles resulted in the massive destruction of Hampi's infrastructure. Vijayanagara empire and mainly Hampi was looted for straight 6 months after the war, which again resulted in ruins that are now famous as "the group of monuments at Hampi ".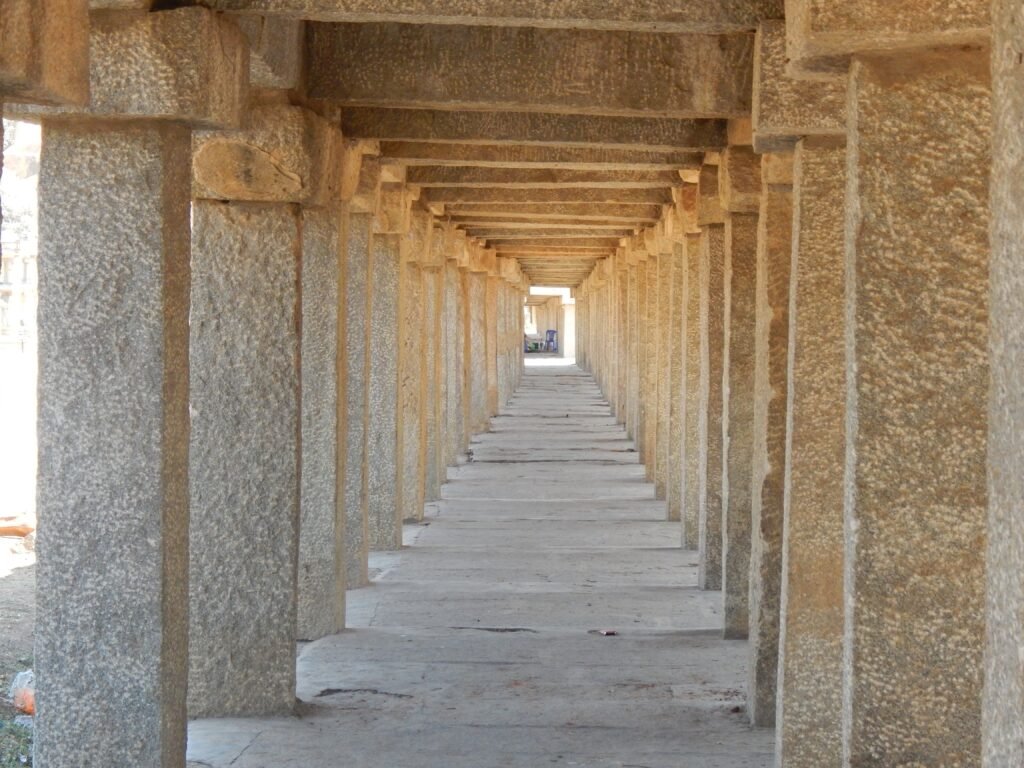 According to mythology, Hampi was earlier famous as Bhaskara-Kshetra, Pampa-Kshetra, or Kishkindha-Kshetra. According to legends Hindu, Pampa is another name for goddess Parvati, wife of god Shiva. Goddess Parvati performed penance at the top of the hill, Hemakuta (the hill of gold) to bring back lord Shiva, to the householder's life from the loner ascetic. So this name 'Hampa' transcended from Pampa and then now it is called Hampe then Hampi is known by this name.
Another tale behind the Kishkinda kingdom is explained in the holy book Ramayana. The monkey Kishkindha is known as the monkey kingdom. It is located near Anjaneya hill. Anjaneya hills are the birthplace of lord Hanuman. So according to sources Sugriva and the whole army met god Rama and Lakshmana at this place.
That's all about Hampi's history. Now if you are planning to visit Hampi. Then check out the rest of the details in the below section. here you will get to know the whole guide on how to visit Hampi.
So if you're planning to visit Hampi- City in India, then the first thing that you need to plan is budget. The cost of accommodation, food, and traveling vary depending upon your occasion choices. On average it will cost 300-700 per person each night. For a proper Hampi trip, an individual will cost over 10k. As mentioned it will vary depending on your choices. If you want to stay in a deluxe hotel or a simple one the cost will vary. So you can reduce it according to your budget.
After finalizing the budget it's time to start the trip. You can reach Hampi through the following:-
By Air
If you want to travel to Hampi by air, then you need to know that Hubli is the nearest airport which is 151 Km away, this airport connects the flights to Bangalore. Another airport is Vidyanagar which is 30km away, this airport connects the flights to Hyderabad and Bengaluru. If you are going to travel to Hampi from Delhi, then the fastest route is to catch a flight to Kempegowda International Airport. After that take a cab to Hampi. It will approximately take 10h – 11h.
By Rail
If you want to travel to Hampi by train then Hospet is the nearest station. It is 13 Km. away which connect rails to Bangalore, Guntakal, and Hubli.
By Road
You can travel to Hampi by road. It offers a good road route that connects many cities to Hampi.
First of all, you need to decide the location where you want to stay. Many guest houses and hotels are available on the budget to stay in Hampi village. Else you can look for your accommodation in the Hospet town area visitors will find a good choice there. Kamalapura village and Virupapura Gadde also provide places to stay. You can decide and choose it accordingly.
There are many places to satisfy your hunger. Although there is not much variety available for food, still you won't stay hungry. As it is located in a south Indian state so you can eat south Indian food. Street food and local markets are available if you are a street food lover, but if you don't want to have street food. Then local cafes, restaurants, and kitchens of guest houses are available to serve you. The main street for local street food starts from the bus stand and ends near Virupaksha Temple. It is not very expensive, you can try dosa sambar, lassis, sugarcane juice, and many more things.
After selecting your accommodation, and satisfying your hunger it's time to explore the beautiful places of Hampi. The major attractions of Hampi are its temples, monuments, and historical places.
the specialty of Hampi is its unique temples. although the list of monuments, and temples are not so short. but the most famous ones are mentioned here. there are around 19 famous temples in Hampi that you should visit. every temple has its own unique story. talking about Hampi and missing its monuments is not possible. they are known as the group of monuments of Hampi. some temples are considered the monuments of Hampi. the list of temples is as follows
Besides Hindu and Jain temples, Hampi has 2 mosques and also a cemetery as well.
A monument in the urban core of Kamalapura on the southeast side before the Turuttu canal. Ahmad Khan built this monument in 1439. The monuments include a tomb, a mosque, and an octagonal well. You can visit here as well when you visit Hampi – City in India.
Other Attractions of Hampi are as follows:-
There are many different things to do. Following activities you can enjoy in Hampi:-
Hire a bicycle and explore
Visit Anjaneya hill
Explore ruins and temples
Enjoy coracle ride
Explore rice paddies
Cliff jumping
Rock climbing and much more
This beautiful place doesn't need any reason to plan a visit, but you can visit Hampi to explore its iconic beautiful temples and monuments. To enjoy activities like coracle rides, hiking, and much more. Don't forget to plan to go camping on the hippie island. The history and tales behind every place are worth your visit.
Whenever you need a break you can plan a trip to Hampi. But comparing the atmosphere it is better to plan your visit during winter. As it is extremely hot during summer so you might not enjoy your trip properly because of higher temperatures. For the details check out this article:- the best time to visit Hampi.
There are so many things to explore in Hampi, but still on an average of 3-4 days if you have a busy schedule. Else if you can take out time off your work then 1 week is enough for a trip to Hampi. Check out the details in this article:- Trip To Hampi
Now you probably know everything you need to know in Hampi. It is a mesmerizing place that will give you a break from your hectic schedule. The time that you need for yourself is worth spending in Hampi. Have a fun trip! If you have any queries about Hampi then you can drop them in the comments section.