The term is commonly used for Hampi tanks that are connected to the temples. Most temples of Hampi have a tank built near them. These Pushkaranis were connected with different rituals and other functional aspects of the temple as well as the people near them. 
These Pushkaranis were considered pious places by the public of Hampi in earlier times. Visitors who visit Hampi to explore the ruins consider these Pushkaranis as a major attraction.
Some Facts About Pushkaranis
Timing
It remains open all day from dawn to dusk
Entry Fee
Visitors don't need to pay anything
Photography
Photography is allowed
Visit Duration
It took around 20 – 30 minutes
Best Time To Visit
You can visit anytime between November to February
Pushkaranis History 
Pushkaranis are a part of ancient architecture in Hampi. Most of them were constructed during the Vijayanagara Era. These tanks serve the purpose to fulfill the rituals of the temples. Besides serving the purpose of temples, some Pushkaranis were built inside the Royal Enclosure. These Pushkaranis served the members of the royal members of Vijayanagara. The rest of the Pushkaranis or tanks are for the use of the public; they are public Pushkaranis. 
Purpose Of Hampi Tanks
These water tanks fulfill many purposes such as a venue for the boat festivals annually. During these festivals, the idols of Goddesses and Gods were taken out for a coracle ride on the Pushkaranis. Sometimes these idols were placed on pavilions, which can be seen from the center of some Pushkaranis.
The Pushkaranis of Hampi display great architectural beauty. These water tanks are built in the Vijayanagara style architecture. These water tanks have amazing rows of pillars or decorative arcades all around them.
The massive water tanks have large stone steps that allow people to get into the water easily. The water tanks are connected with canals and stone aqueducts. This extensive network of water provides fresh water to tanks from the Hampi river Tungabhadra. Some of these channels are in use till now.
Some Main Pushkaranis of Hampi
Some Pushkaranis are worth visiting now. Many Pushkaranis amaze people with their different sizes and specifications with the carved pillars in its surroundings. A few Pushkaranis seem different from others because of their remarkable structure. Some of those Pushkaranis are:
This Pushkarani is located at the end of Soolai Bazar or Courtesan's street. This is one of the wonderful water tanks present in Hampi. This tank serves the requirements of Achyuta Raya's Temple or Tiruvengalanatha Temple.
This is a big rectangular tank that is surrounded by a colonnade. The ruins of this colonnade are still present in Hampi. The tank is now dry and it's base and steps are easily visible to the visitors.
It is believed that even this tank was destroyed in 1565 A.D. because of the attack of the Mughals during the Vijayanagara Empire. Whereas others say that the construction process of this Pushkarani was never completed. The department of archaeology has repaired and restored some parts of this tank.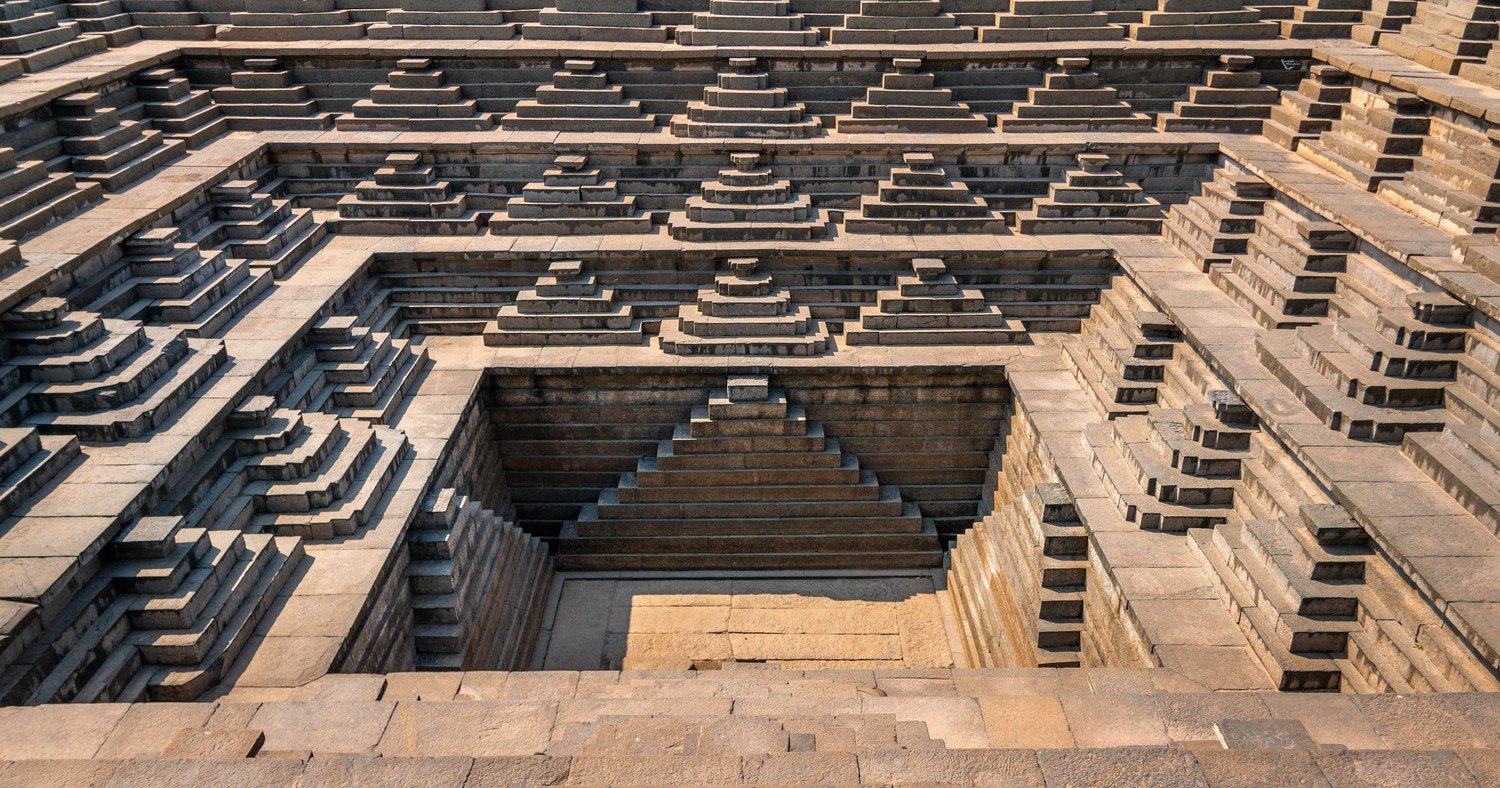 This Pushkarani is located inside the Royal Enclosure, it is also called the Stepped tank. It is one of the famous places of the Royal Enclosure. The stepped tank is on the southeast side and is a perfect example that shows the remarkable skills of architecture during the Vijayanagara era.
The main attraction of this tank is the symmetrical shape of the steps. A 5-tier with few steps on every tier makes this Pushkarani a unique place.
This tank is located near Virupaksha temple. It is popular as the Manmatha tank. This one is a huge tank and is still in good condition. Manmatha tank has different shrines surrounding the tank. These shrines are commonly known as Manmatha tank shrines.
This Pushkarani is located to the east of Vittala temple. This water tank is on the opposite side of Kuduregombe Mantapa, which is now ruined. This tank is functioning now near Vittala Bazar. Although the structure in the surroundings is in ruins.
Another Pushkarani is located near Krishna temple. The structure of this water tank is appreciable. It is famous near Krishna bazaar for its beautiful structure. This tank is surrounded by carved pillars. In the middle of this Pushkarani, a raised platform is another attraction for visitors. Some parts of this Pushkarani are ruined but others are still functional.
Pushkarani is located near Pattabhirama temple. This tank is famous for its size. The structure of this Pushkarani is totally ruined but the architecture is quite impressive.
Most of the Pushkaranis are ruined, and only a few tanks are in functional condition. Some Pushkaranis are dry for a very long time now. Some tanks are filled with clean and cool water that offers a view to the visitors. Earlier Pushkarani attracts locals and serve various purposes but now these tanks are ruined and hence become an attraction for tourists.
How One Can Reach The Pushkaranis
Pushkaranis are located at different places in Hampi. From well-known temples to Royal Enclosures these water tanks offer a glimpse of beautiful structures to visitors. It is easy to reach and find a Pushkarani. You just need to reach Hampi and start exploring the beautiful temples and other places.
Final Note
This is all about Pushkaranis. Pushkaranis are water tanks located at different places in Hampi. These tanks are not only an attraction but instead, some tanks are still working and help people to fulfill different purposes.