Pattabhirama Temple is one of the monuments at Hampi which is a beautiful part of the ruined city Hampi which, mostly is on the neglected trail of major tourist attractions. It is located in Kamalapur, 6 Kms from the main heritage site of Hampi. Unlike the other temples like Vitthala temple, etc.
The Pattabhirama temple is known for its praise-worthy and intricate architecture. It was a preeminent destination for devotees during the zenith of the Vijayanagara Empire. Even today it is a popular pilgrimage center and stands as a reminder of the rich historical era.
History Of Pattabhirama Temple
Earlier the area around the Pattabhirama Temple was known as Varadadevi Ammana pette. Varadadevi was the queen of King Achyuta Raya of the Tuluva dynasty. The temple is famous for its architecture and magnificence. The temple was once filled with devotees in the olden times but it looks deserted today. As there is no idol inside the temple complex. The entire temple shows the Vijaynagara style of craftsmanship used during the ancient days of the Vijayanagara Empire.
Also, there's another place of worship inside the compound of the temple which was devoted to the love of a goddess. Historians claim that the yard around the temple was secured with stone sections in which some are missing today. To date, too much information regarding the temple is said to be hidden in the ruins of Hampi.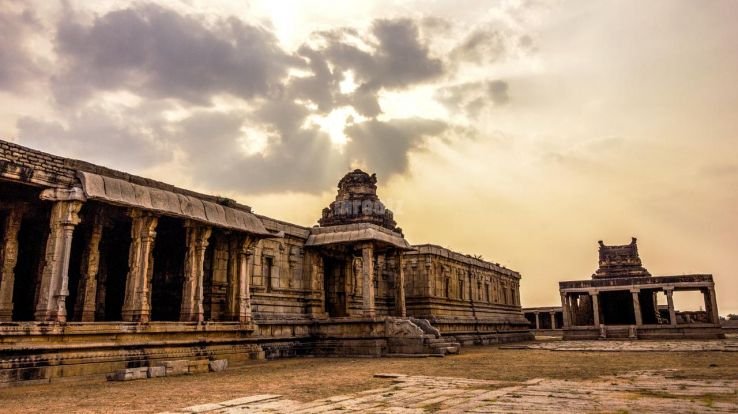 Architecture Of Pattabhirama Temple
The hall in front of the main sanctum is a splendid example of the Vijayanagara style of architecture which has a composite pillar structure. The inner ones are relatively simpler whereas the ones facing the courtyard are elaborate and dense.
The Pattabhirama Temple is situated in the center of a huge rectangular walled complex. The main temple structure has axial mandapas. There is a pillared walkway that runs along the inner side of the enclosure wall surrounding the courtyard. There are four towers on four sides of the temple complex that were built as entrances to the temple.
The main tower is built with brick superstructure and granite lower portions. The terracotta images typically part of such towers is non-existent. However, the details on the lower granite portion are intact. You can even spot the Crescent -Boar-Dragger emblem of the Vijayanagara kings near the archway of the tower.
The main mandapa is a beautiful structure that has pillars with delicate designs. The whole temple exhibits splendid architecture. The Vijayanagara style of craftsmanship is easily visible on the walls and pillars of the temple.
There is another small shrine located within the compound. This shrine was dedicated to the worship of a goddess. A huge hall stands towards the southeast part of the complex. The courtyard was once completely covered with stone slabs, some of which are missing now. This temple is truly one of the largest and most beautiful temples in Hampi.
Things To Know For Tourists
Timing: 6 am to 6 pm
Entrance Fee: No entry fee required
Camera Fee: No camera fee needed
Nearby Attraction: Archaeological Survey of India Museum
Best time to visit: November to February