Kondandarama Temple is one of the living shrines of the sacred Hampi city, also observed as the standard etiquette, deemed for a place of worship. where pilgrims bathe in the clear water, drying brightly coloured saris on the sandy banks and sitting in huddles for impromptu picnics.
One can find this temple, when you're coming out of the Virupaksha Temple, walking down the Hampi Bazaar and before you reach the Nandi Bull, take a left towards the hilly path that makes its way by the river to the Kondandarama Temple.
Below the cliff, the river swirls around boulders. Beyond are the pylons of an ancient bridge, the stark abandoned pillars standing out of the water like bare tree trunks after a storm, mysterious spikes spanning the turbulent waters.
What Makes Kondandarama Temple Famous?
The most sacred bathing ghat of Pampakshetra. The bathing ghat has a spreading peepal tree on top with a deepa sthambha, a lamp-stand, and many naga stones that are granite slabs carved with the image of snakes that worshippers place near temples after their prayers are answered.
Along this path, is the Chakratirtha, the most sacred bathing ghat of Pampakshetra. Behind the steps of the ghat stands the Kondandarama Temple; it is an active temple in the circuit of pilgrims who head here after their puja to Lord Virupaksha.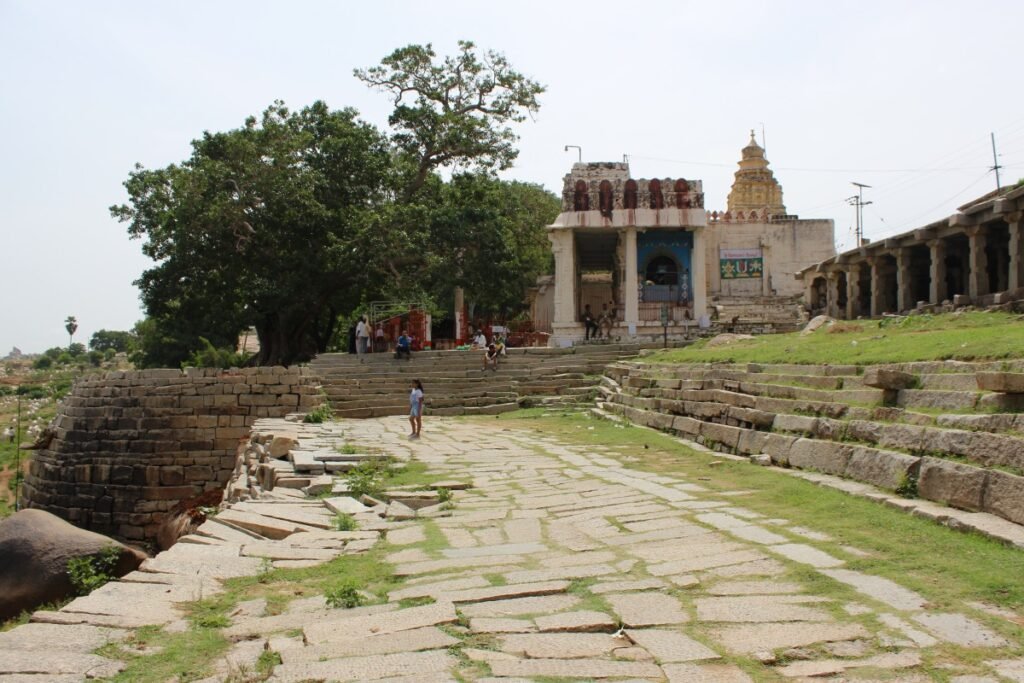 Beautiful Carvings In The Temple
The active temple of Kondandarama Temple's sanctum has these huge images of Lord Ram, Sita, Lakshman, and Hanuman. The images are said to be 4.5 meters high and carved out of a natural boulder. Lord Vishnu, in those sculptures, has Adishesha, the seven-headed serpents, hooded over his head. The rectangular 'Garbha Gruha', the sanctum has beautifully enhanced the ancient relics through the carvings and images.
Legends connected to the Ramayana say that Sugreeva was crowned here as the king of Kishkinda after Ram had killed his rival, Valli. Beyond the temple, there is a lovely picture of Vishnu as anantashayana carved on a rock. It shows the reclining god with Lord Brahma sitting on a lotus that is growing out of his navel.
Like mentioned, this is mostly known for its religious importance than for the architectural peculiarity. Three very tall statues of Rama, Sita, and Lakshmana are enclosed in the sanctum. During the peak monsoon season the river-water rises and sometimes reaches up to the temple courtyard.
Utilitarian Advice For Tourists
Noting that this is one of the living shrines at Hampi, Non-vegetarian food will not be allowed on the premises.
Smoking and Drinking isn't allowed inside the temple complex.
Photography is allowed.
It is open to visitors from 6 AM – 6 PM.
Best time to visit is from November to February.