This lake is a result of an irrigation reservoir. It is one of the great spots in Hampi to visit. It is a natural lake that has outstanding boulder hills in its surroundings. The way to Sanapur Lake offers a view of banana and paddy plantations. Later you will see massive boulders on the road. Driving all the way to Sanapur lake and the view of the lakes surrounding is an awesome experience to enjoy on your Hampi trip.
Visitors can enjoy a coracle ride on the lake. The locals of the area offer this facility of coracle ride. Although it is a beautiful spot, it is not very popular among visitors. You will see less crowd in this area.
Sanapur lake is located on the opposite hand of the Tungabhadra river. If you are going to this spot from Hampi side, Tungabhadra river. This lake is about a distance of 4 km, from the ferry point near Virupaksha Temple which is Virupapur Gadde. The easiest route to reach Sanapur lake is Virupapur Gaddi, you can rent a bicycle or scooter for traveling.
You need to drive on the western side of Huligi Gangavathi road. Huligi Gangavathi is the main road of this area, passing through the Sanapur Village. This Sanapur village is the largest after Virupapur Gadde. It is around 2.5 km away from Virupapur Gaddi junction also called old stone bridge junction. Whereas it is 8 km away from Anegundi Town. 
After leaving the main road of the village take a right and after 1 km of the distance you will be able to reach the lake. After reaching there you can park your vehicle under the peepal tree, which is on the lake's edge.
From Hampi
In case you are riding on a bicycle or bike then go to the ferry point near Virupaksha temple after that follow the route explained below:-
First of all, you need to reach Kamalapura. Then take a left towards Kampili. It is around 8 km from Kamalapura village. After this, you will reach a spot called Bukkasagara. Again you need to turn left towards Gangavathi road or Anegundi. After a while, you will successfully cross the Tungabhadra river.
After you will cross the river you need to take left. Once you will reach anegundi you will notice a fuel station which is again on your left side. After a little while taking the bend right road, now simply cover 8 km and you will reach Sanapur village.
You will surely enjoy driving on this route. Else you can use public transport to reach here. Take a bus from Virupapur Gaddi or Anegundi, to reach Sanapur village. Sanapur lake is at 1 km walking distance from the bus stop on the main road. It will take 15 – 30 mins to find a bus.
Sanapur village area is a remote place, you need to be careful especially when you are traveling at night. Boulders on the way get slippery sometimes, specifically the ones that are in the water. So it's better to avoid getting in the water because it is difficult to judge the undercurrents and the depth of water. There are some warnings that will ask you to avoid swimming and diving. Visitors might not notice them easily, but stay beware of crocodiles.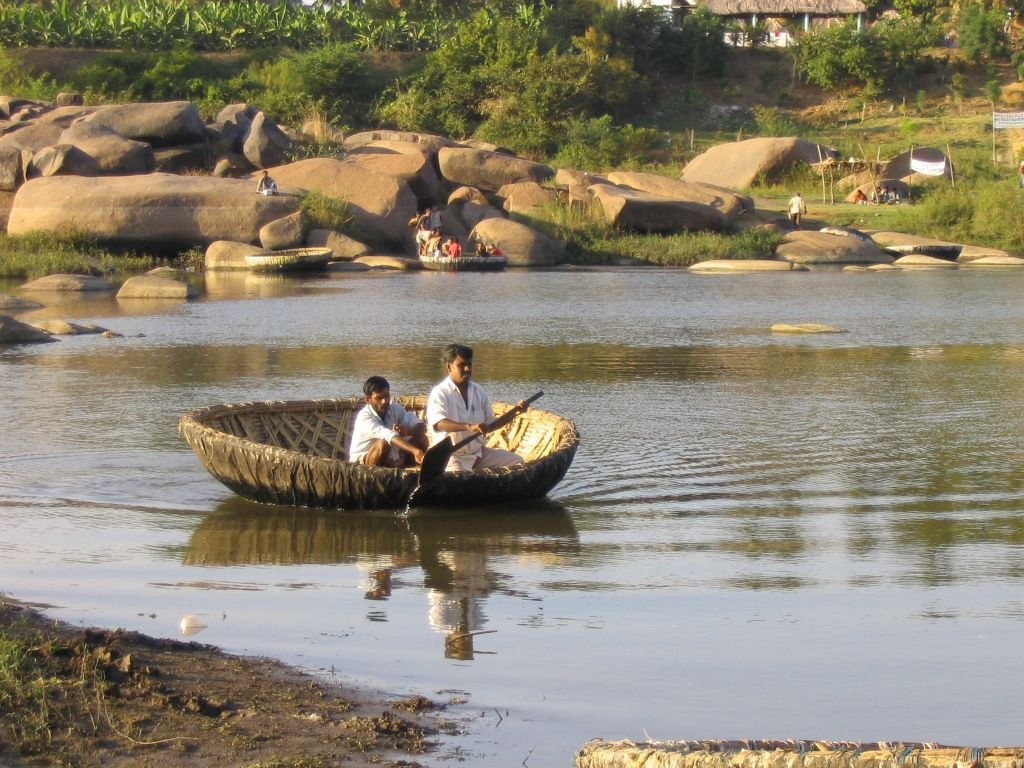 A charismatic spot for relaxing.
You can enjoy a walk along its outskirts.
A few spots are safe to swim in but first of all, confirm it with locals.
Cliff-Jumping spots for some extreme adventure.
Coracle rides
Located in the midst of remarkable bouldered landscapes.
Enjoy the charming view of sunrise or sunset.
Bring some food with you as no restaurants or shops are available nearby.
Some locals sell chilled beers or refreshments.
This is all about Sanapur lake of Sanapur Village, Hampi. If you have time then you can visit this spot. But don't forget to take some precautions like driving carefully because of the big boulders, avoiding swimming as it has crocodiles, and listen to the locals. But the rest is all good. You can enjoy the stunning views of the sunset, sunrise, and big boulders in the surrounding.