Uddana Veerabhadra Temple is a small but prominent temple in Hampi. Its also considered one of the oldest ancient temples in the ruins of Hampi. The temple is famous as it has the largest statue of the demon king Veerabhadra which was built during the olden days. The whitewashed temple is also known as Mudduviranna temple according to the ancient inscription and is also a famous religious destination for devotees in Hampi.
Facts About Uddana Veerabhadra Temple
The temple has the largest image of Veerabhadra in Hampi
The temple has a small image of goat headed Daksha placed near the main image of Veerabhadra.
The temple has the unique Sarvanga Linga installed inside the sanctum sanctorum.
The priests who perform puja at this temple belong to the Lingayath community, which is a deviation from the tradition of the Brahmin community performing the puja rites everywhere.
History Of Uddana Veerabhadra Temple
The Uddana Veerabhadra Temple was consecrated by Dalavayi Jangamayya in the year 1545 AD. The temple was solely dedicated to Veerabhadra which is an incarnation of Lord Shiva. The existence of the temple in Hampi shows that during the ancient days the people of Hampi used to worship Gods in their ferocious forms as well.
There are many evidences about the existence of this temple in many scriptures as well. Veerabhadra is also known as Mudduveeranna and the temple is called Mudduviranna temple in the local dialect. Though the temple is not as grandeur as the Vitthala Temple or other temples in Hampi but is a prominent place for devotees due to its religious importance.
Architecture Of Uddana Veerabhadra Temple
The main deity of the temple, Veerabhadra's height is 16 feet high and there is no other image of Veerabhadra in Hampi built during the Vijayanagara period that is larger than this image. The temple was built in the Vijayanagara style of architecture.
The temple has an Antarala, a large Garbhagriha, and a pillared Mukhamantapa and the doors present here are painted in saffron color. The image of Veerabhadra consist of four hands and the upper hands bear a bow and arrow while the lower hands bear a shield and sword. The representation of the image shows the fierce nature of the demon king.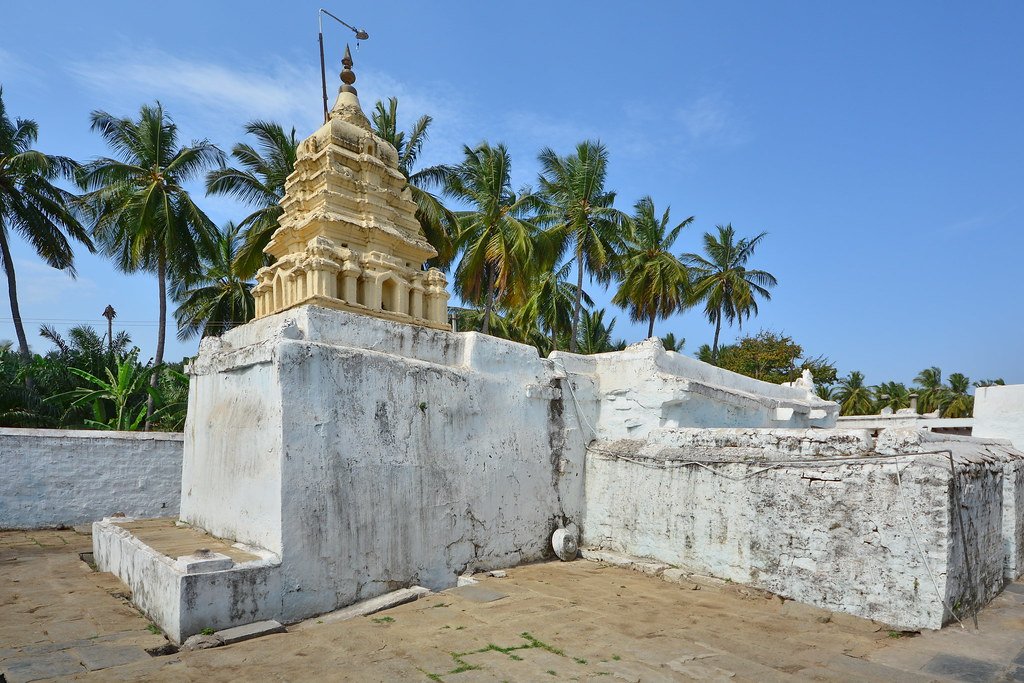 Things To Know For Tourists
Timing: 9:00 AM to 5:30 PM
Entry Fee: No entry fee required
Photography: Not allowed inside the sanctum sanctorum
Video Camera: Strictly prohibited inside the sanctum sanctorum
Visit Duration: About 1 hour
Parking Fee: Parking is free
Best time to visit: Throughout the year