The Saraswati temple is a significant temple prominent for its unique architecture. Some beautiful sculptures are found on the pillars of the temple. Till date not much information is revealed about this temple. A crawling baby Krishna's carving could be seen on the tower of the temple. The temple is devoted to goddess Saraswati. Though the temple is mostly in ruins at present but its old charm has not diminished yet.
History Of Saraswati Temple
This temple was built during the 13th century which is located nearby an octagonal bath in the midst of the ruins in Hampi. The temple was dedicated to Goddess Saraswati who is worshiped as the goddess of knowledge. According to the Hindu Mythology, she is the consort of Lord Brahma, the creator of the Universe. The goddess has four hands, one hand has a book which represent the Vedas, one holds a pot containing holy water, one has prayer beads of pearl that signify spirituality and another one has a musical instrument Veena epitomizing the fine art.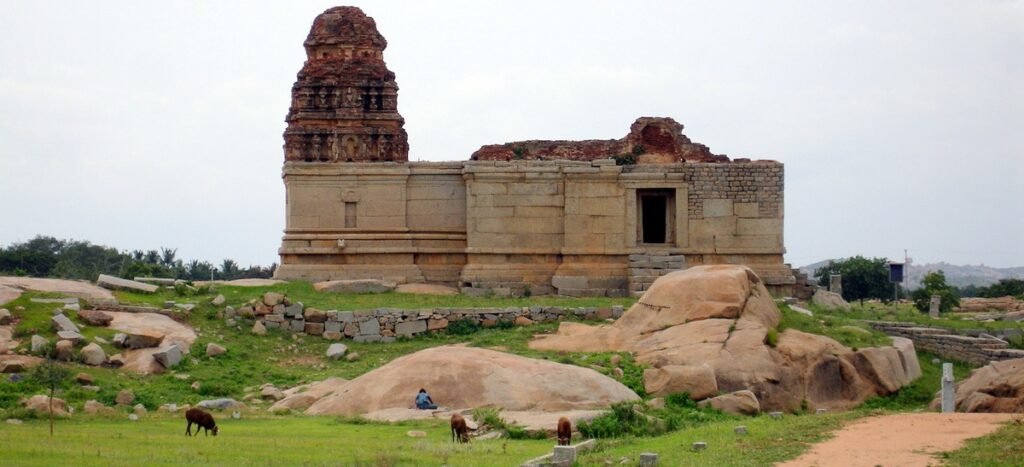 Architecture Of Saraswati Temple
The Saraswati temple was build in the style of Vijayanagara craft, So it has some amazing sculptures on the walls and the pillars of the temple. If the tourists visiting here are inquisitive enough they might take a closer look at the pillars which expose plaster work on their stone pillars with some remains of stucco images.
There is an rock near the temple which has a image of the goddess carved on it and around it there is a shrine which is painted with beautiful colors as the temple was built to honor the goddess. The amazing art and architecture of the temple can be understood if the visitor notices on every sculpture present on the pillars of the temple.
Things To Know For Tourists
Timing: 6 am to 6 pm
Entry Fee: No entry fee required
Photography: Allowed
Appropriate Dress Code Is Compulsory
Pets Are Not Allowed
Visit Duration: About 1
Best time to visit: November to February