Hampi is a religious as a well historic place and a lot of people wish to visit this place. It has a lot of places that will give you the experience of a lifetime. If you are planning to give Hampi a visit then this article will help you guide what you should do there to make this trip the best one. Must check all the things to do in Hampi.
There are a lot of eventful things that make a trip rememberable and now that you have decided to visit Hampi then you are up for some really exciting and lovely experiences. Here is a list of the top 10 things that will help you make the best out of your trip to Hampi.
Fun Things To Do In Hampi
Virupapur Gaddi, which is rightly known as the hippie island should be your next awesome event. This place across the river is a fit if you want to enjoy a simple and authentic yet ancient life away from any lavishes that the world has to offer. A lot of visitors complete their temples quickly to rush to this beautiful island. It can be even more fun if you find a hut to live in.
You can easily go to this area using a taxi boat which takes you to the hippie part of Anegundi but you might check this place now as it is undergoing some major changes which might make it difficult to happen. However, as and when it gets done, go see around the entire river and do all the activities that you can.
Now, that you have explored the history, it's time to dive into the geology of the land. The beautiful scenery features of the land are to die for. The boulders of the land are so beautifully placed and are said to be one of the oldest on the planet. These boulders have allowed the site to craft some beautiful architecture that to date stands tall and unique.
As we said too many temples might get boring which is why you can visit some of these bouldering centres. Some of these include the Sunny Bouldering School and the Tom and Jerry, Goan Corner are among the few that you can visit. So, go climb them and have some fun for the day.
As much as the place is ancient and antique, it is growing and keeping up with its young tourists. The place is filled with cafes and there are so many that each day you will be exploring a lot of them. The cafes have quite engaging activities and yes, they do give a boost to your social life with you meeting a lot of new people in a close intimate place.
Hampi is a storehouse of beautiful architecture and buildings. You move a step ahead and you will see some great creations with beautiful histories. If you do not know then let us tell you that the beautiful Hampi is a UNESCO declared world heritage site because of the ancient monuments and ruins. The history of the remains here goes a long back then just some few hundred years and if you miss out on a world heritage site then well we can't help you.
If you wish to see this site then you can hire an auto-rickshaw and ask the driver to show you all the sites that you will mention to him as per the list that you will create. Make sure you plan this trip over some days as there is a lot to see. We know that you will get bored seeing all the temples, so make sure you get to all the other beautiful scenarios. Ask your rickshaw driver to keep you updated on other beautiful places on the land.
A book with all the history and maps will be a real help in the entire trip. Nevertheless, make sure that you connect with the driver because he/she might have some really good secret places for you to enjoy. Do not worry about the money as it depends on how much travel and visit per day.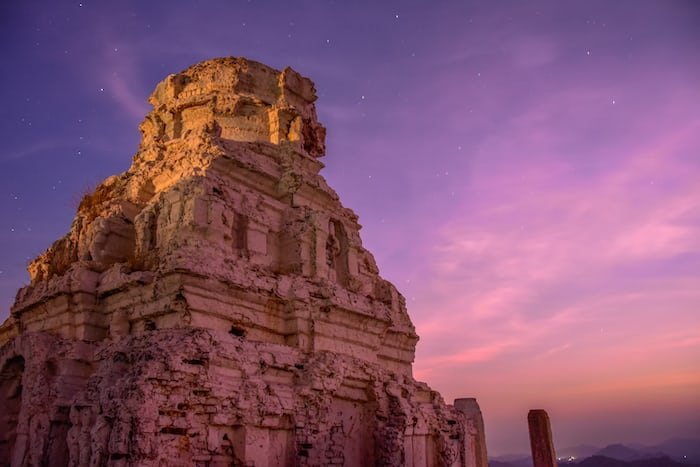 Now, Hampi is more than what anyone could ever tell you and it has a beauty all around it but when it comes to some amazing views, some places stand out. One such place is Matanga Hill (the highest point of Hampi). You will be required to climb this beautiful hill and enjoy the scenery. There is also a very ancient temple which is the Veerabadra temple and as you reach its roof, you are up for some peaceful time and a treat for your eyes.
The climbing process is also very eventful and happening but make sure that you only carry limited essentials because of course, remember you are climbing and you might need some stunts on that part.
The place also has a huge monolith Nandi statue which is extremely beautiful and reaches the top of the hill. The climb can seem to be very mesmerizing but it also may be a bit difficult here and there as it is not a completely natural way the way is crafted by man and it is not done in a way that can be safe. Nevertheless, once you reach there and look at the beautiful Hampi, everything would be worth it.
Located in Anegundi, very close to the hippie island. This beautiful place which is also the birthplace of the very strong and prestigious Lord Hanuman is an absolute beauty. The steps allow you to climb the hill properly to reach the hanuman mandir which is at the top of this hill.
Well, as much as this temple is about monkey warrior God, you must also be careful of these beautiful creatures of him. They might want to copy you and in that they might take your belongings and you do not get to call them thieves. You cannot miss the sunset from here with all those paddy farms, ruins, and also those banana trees. The climb is about 572 steps long and is quite a height so choose your timings wisely.
Jump the Cliff, Just Like You Climbed It
Yes, they have banners all around to keep you protected from those dangerous crocodiles of the river but there is one lake which is near the cliff jumping point and you can have that experience there. This lake is Sanapur lake. You would love to be here, also because of the cold weather but hey be careful always.
Even though some say that crocodiles are only a buzz, you still can be careful. Enjoy safe jumping and a great time in the cold water.
You still have to be careful and may ask the locals as well as your guides. Make sure you are safe first and then you go for some fun.
Sunsets are beautiful, especially when you are in Hampi. Across the rivers or on the hills, you can just be promised a beautiful evening if nothing else. You can also jam at the Jain temple and you can see colors playing with the rocks. You will have some good jamming sessions with all those instruments and also the music. Therefore, make sure you go grab the opportunity to test your singing skills with others just like you.
Scooter Rides Is One Of The Best Things To Do In Hampi
Trust us when we say this, scooter rides are the best, and enjoying them when you have some great land around is a dream. You can roam around with a rented moped and you must know that moped can be ridden more easily than a scooter and on those empty roads, you have all the freedom.
Many areas on the hippie island are very close to each other and with a moped by your side, you can easily travel around the island on it enjoying all the beautiful sceneries of the area. The area is beautiful from all sides and angles, so there is nothing you would lose but only gain. Honestly, it is the life that you enjoy.
The Tungabhadra river has been known as the red river because the river has water that is red and no it's not scary but rather beautiful and astonishing. The rocks that you will be seen popping out of the water will have some sort of unique statues and you can wander around in it with a ferry. The ferry is just five minutes long but every minute is wondrous, make sure you are on time though.
So these are a a few things to do in Hampi. If you wish to get detailed information about Hampi then you must keep checking Hospet.online. We have all the topics covered in great detail and you would want to have a look at them if you are planning a trip around the place. We have everything including the way, the means, and the budget covered for you.