Hampi is situated in the Indian state of Karnataka. It is a beautiful place for tourism. It has numerous temples and the famous river Tungabhadra. Not only that the southern part of Hampi has a beard sanctuary named Daroji bear sanctuary, it is home to many Indian sloth bears. Hampi has many beautiful places to visit. It could be a good spot for your next holiday. So if you're planning to visit Hampi this season. Then this article is for you. Here's a list of 10 fabulous places to visit in Hampi.
Places To Visit In Hampi
From the architectural design of historic places to the breeze of lakes. Hampi is one of the favorite places of tourists. Let's move on to the best places to visit in Hampi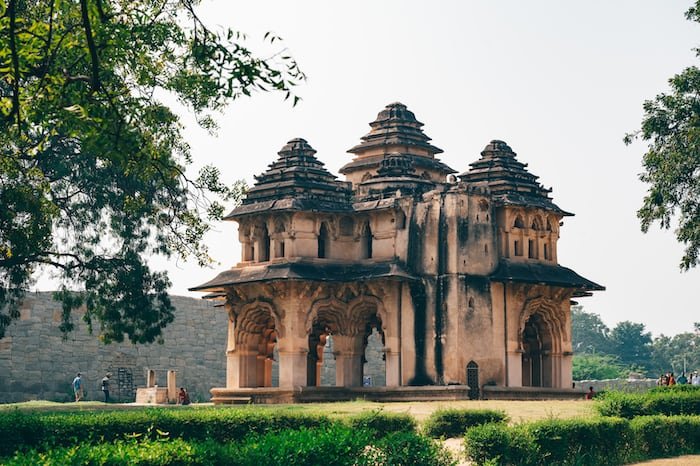 Lotus Mahal is also called Kamal Mahal. It is an excellent example that shows brilliant architectural designs. It has the best architectural designs as compared to the other tourist places in Hampi. Lotus Mahal is called by this name because of its shape. It resembles a lotus flower. The central dome present in this Mahal looks similar to the bud of a lotus flower. The passages and the balcony of this Kamal Mahal are just like the petals of a lotus. There are around 24 pillars in the Mahal which makes it a beautiful place to visit.
It remains open from 8:00 a.m. to 6:00 p.m. in the evening for visitors. Entry fees Lotus Mahal in Hampi:- A charge of 10 rupees per Indian person. Whereas per foreigner they charge 250 Indian rupees. Kids below the age of 15 don't need to pay any entry fees. So it is one of the beautiful places to visit in Hampi
Hippie Island is one of the most visited and a favorite places in Hampi. It is given this name because of its cultural representation. It is located on a small Island called Virupapur Gadde which is on the other side of the Tungabhadra river. It is a stunning place to visit. Hippie Island is not just loved by the locals but the tourists also prefer visiting this island, especially for cozy lodges. People spend their time in cafes and restaurants that are present there with a beautiful view of rice paddies together with an awesome meal. Sounds like a perfect plan to spend quality time right?
With some musical instruments and friends, this place is a center to have fun during sunset. You can visit this place anytime between 7:00 a.m. to 8:30 p.m. The charge to visit here is around 1000 Indian rupees per day.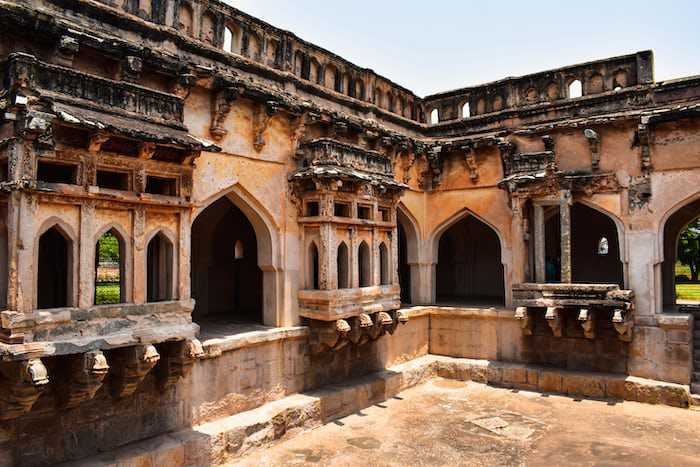 It is one of the most ancient places in Hampi. It was built around 500 years ago. The architectural awesome place remains the same and intact. The corridors that are around this Royal bath area will surely amaze you. The Queen's bath remains open from 8:30 in the morning to 6 p.m. in the evening. So you can visit anytime between. Also, we don't need to pay any fee for entry.
The old palace is also known as Gagan Mahal. This place is worthy enough to visit. Although some specific areas of this palace are in ruins, you can spend some time enjoying the remaining views. The best time to visit this place is between September to February. Also, keep in mind that there is no vehicle public available to ride you there. This place is available for tourists 24 hours. So you can visit anytime, also you don't need to pay any entry fees.
This temple is located between two other beautiful places Gandhamadana and Matanga Hills. The architectural beauty of this temple is impeccable. A beautiful and precious idol of Lord Tiruvengalanatha. It blesses and maintains a positive aura all around. Beautiful walls, towers, and pillars complete the beauty of this temple. No fees are required to enter this temple.
Archaeological Museum
This Museum is a bit small in size but it is a good option to visit in Hampi. It is worthy enough and deserves your time. It has four sections; the first one shows a model of Hampi. The second one is full of sculptures and idols based on Hampi ruins. The third section has tools and arms. The fourth section shows the artistic items and crafts related to the historic period. The timings of this archaeological Museum are 10:00 a.m. to 5:00 p.m. The fee is only 5 INR and the children under 15 don't need to pay anything.
Riverside Ruins
You will see many lingas around this place. At a little distance, a beautiful array of Lord Vishnu is carved in the form of sculpture. You need to be careful around this place as it gets a little slippery because of rocky surfaces, particularly in the monsoon season. You can visit this place at any time. Still, check its availability according to your plans. No entry fees are required to enjoy its views.
Prasanna Virupaksha Temple
It is an underground temple of Lord Shiva. Everything in this place exhibits a combination of history and mythology. This is one of the best places to visit in Hampi. It is located underwater. you can visit anytime but as it is underground it's better to visit in the daytime. You can complete the whole tour within 30 minutes.
Explore Rice Paddies
Visiting Hampi and not enjoying rice paddies is like your trip remains incomplete. It is better to enjoy and explore rice paddies on a scooter. The greenery all around there will just mesmerize your eyes, enjoying and capturing a natural beauty is no less than heaven. Give your soul a break from day-to-day activities. get a trip to Hampi. scooters or easily available and you can rent them at 300 to 400 rupees for a day per person. The roads are not so wide so enjoying a scooter ride is just awesome. You can do this at any time.
Final Note
Now you are probably ready with the list of places to visit in Hampi. and obviously there are many more places. The list doesn't end here. There are a lot of beautiful monuments in Hampi. Every place deserves at least one visit. The beauty of these places is enchanting. Mesmerize your soul and eyes in this beautiful place. Have Fun!