What Place Is This?
As you begin exploring Hampi's spectacular heritage strewn with massive boulders that seem to be balanced almost magically, there comes a point when the gigantic boulders stop being overwhelming and formidable and tend to call out to the adventurer in you that wants to simply take interest in the ancient artistic splendor that Hampi is.
A perfect way to experience Hampi's magnificence entirety is to climb up Malyavanta Raghunatha Hilltop and watch the sunrise and sunsets over this ancient kingdom, capital of the formidable Vijayanagara dynasty laid to ruins by its five allied sultans from the Deccan.
Malyavanta Raghunatha Hilltop is kind of desolate with a small temple on top. Accessing ways to reach the top is in chaos and shambles also is challenging. But the view from the top is healthily paranoid and breathtakingly panoramic, especially during sunset it gives a surreal view of surrounding temples and other heritage structures.
One can see that Malyavanta Raghunatha Hilltop is in isolation on a hill which is why the density of the crowd is pretty much negligible, as it could be witnessed at other popular dots such as Hemakunta hill and Matanga hills. There are strange and interesting designs of fish and oceanic creatures adorning its inner walls. You will feel mesmerized to enjoy wonderful scenarios of the sun setting and rising amidst huge boulders and other monuments seen on the landscape. The breeze is pleasant and lovely.
Historical And Religious Aspect
Malyavanta Raghunathaswamy temple is solely dedicated to Lord Rama and reminds us of crucial events from Ramayana. It is at 3km down the road from Kamalapura. According to mythology, it is here Lord Rama and his brother Laxmana waited till the monsoon season gets over; and then they marched towards Lanka with Hanuman's monkey army to rescue Sita. There are displays of carved Nandi (Bull) statues and Shivalingas nearby. A gap found on the floor is filled with water, which separates the two rows of carvings. It is said that Laxmana made this by his arrow.
Malyavanta Raghunatha Hilltop dates back to 300 years and in today's worldly era, there is Ramcharita Manas Paatha recited 24*7 in this temple which seems to have a very spiritual vibe around this place. It is strongly recommended to visit early mornings before and relieve your worries and enjoy the mesmerizing sunrise.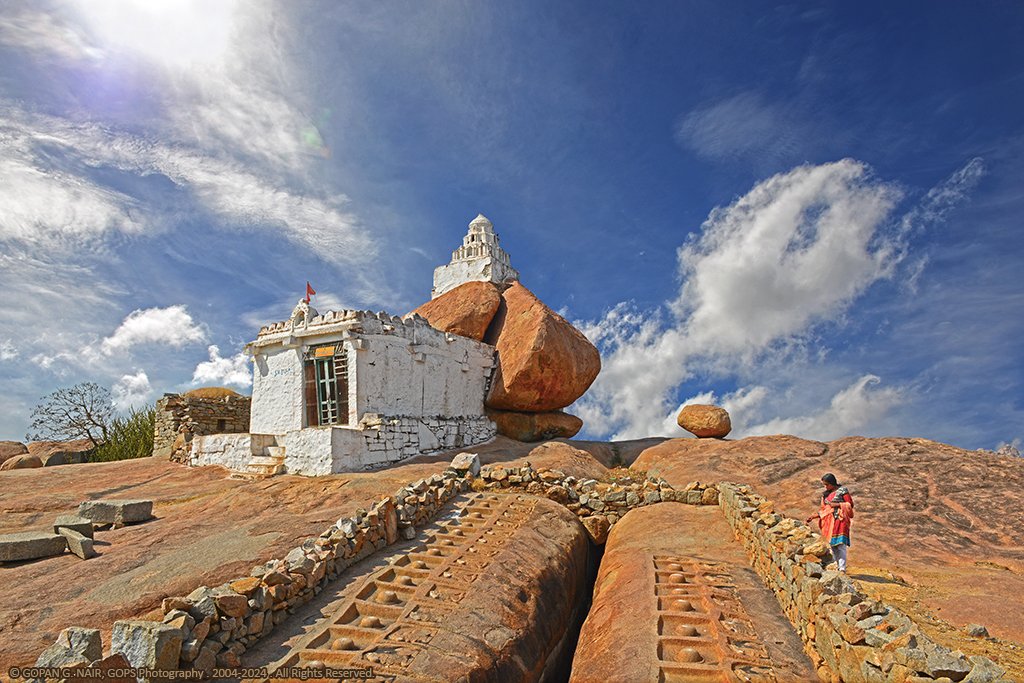 How To Reach?
There is no airport in Hampi. Bellary is the closest airport which is in 64km. The nearest railway station is at Hospet at 13km. Hampi has a good road network as it is connected to many cities in Karnataka and other states. There is a wide range of hotels in Hampi offering very good services at minimal rates. By Vehicle, you can reach Malyavanta Raghunatha Hilltop.
From Kamalapura take the main road (the same road that goes to the Ganagitti Temple and the Bhima's Gateway) that goes in the northeast direction towards Kampli. At about two kilometers from Kamalapura, or after passing the Ganagitti Temple on your right, the road reaches a fork. The left branch goes towards the Vittala Temple.
The main road continues towards Kampli. About 500 meters from the junction, on the left side of the main road you see the Malyavanta Raghunatha Hilltop. A cemented ramp to the hilltop with an arched gateway at the foothill is a distinct landmark. A moped may not be powerful enough to pull all the way up with two people riding on it. You can park your bicycle or moped anywhere in the vicinity, that is, by the foothill, near the ramp at the courtyard of the temple complex at the top.
Utilitarian Advices
Firstly, It is preferable if you wear high-gripped shoes to visit this place as the steps are very steep and slippery so precaution is a must to visit this place.
Secondly, climbing Malyavanta Raghunatha Hilltop isn't very safe as the boulders are a little curvy, slippery and there is nothing to hold for support. Don't forget to carry water and a torch with you if you're heading for bewitching and captivating sunrise.
Lastly, it is not advised for the older people to do the climbing and also do not make the climb to the Malyavanta Raghunatha Hilltop alone or in dark as robberies have been known to occur at the top, which can get fairly isolated.