Monolithic bull is also known as Nandi or Yeduru Basavanna by the locals in Hampi is a giant sculpture located opposite to the Virupaksha temple and at the east end of the Hampi Bazaar. The statue is housed in a twin storied pavilion built on an elevated platform. The sculpture which is admired and is known for its astonishing size is present in Hampi for more than 500 years now.
Facts And Myths Of Monolithic Bull
Nandi was created after centuries of worship of sage Shilada by Lord Shiva
Locals here say that it was Nandi who cursed the demon Ravana that his kingdom will be burnt to ashes by the Vanara or the monkey clan
Monolithic Bull in Hampi represents Nandi, the mount of Lord Shiva which is considered as the gatekeeper of Lord Shiva. Due to this, the Monolithic Bull is considered as a sacred and holy sculpture in Hampi.
Also, many locals here say that the name Yeduru Basavanna was regarded as the protector and guardian of Hampi.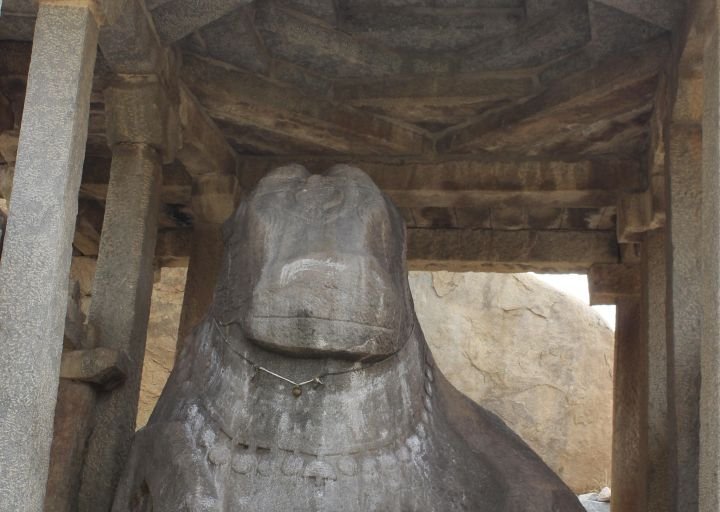 History Of Monolithic Bull
The sculpture of the Monolithic Bull dates back to the time of the Vijayanagara Empire. It's believed that one of the famous rulers of the Vijayanagara Kingdom had constructed this impressive sculpture. According to the Hindu mythology, the Monolithic bull or Nandi was born as a result of sheer devotion and penance shown by sage Shilada, towards Lord Indra. sage Shilada wanted an immortal child and none other than Lord shiva could grant him that wish.
So seeing this Lord Indra had advised him to worship Lord Shiva. So as he started worshipping Lord Shiva his worship continued for centuries and Shilada did not move an inch and his condition worsened to an extent that termites started eating up his body. So seeing this Lord Shiva had appeared and out of his bones created Nandi, the immortal child, and restored the state of Shilada.
Nandi then became the vehicle of Lord Shiva and with such sacred status, people started worshipping it. Also, Some locals also narrate stories that it was Nandi who cursed the demon Ravana that his kingdom will be burnt to ashes by the Vanara or the monkey clan. The sculpture has stood solidly amidst the trials of time and weather and the destruction initiated by the attackers which led to the downfall of the Vijayanagara Kingdon in 1565 A.D.
Architecture Of Monolithic Bull
The Monolithic Bull has been carved out of a single giant boulder and it displays all its features prominently. It does not have the elaborate carvings found in most of the other sculptures of Hampi but is unique and has the attraction of its own. The statue of the bull is placed on a sheltered and elevated platform that stands against the backdrop of huge boulders. Today the sculpture is in semi-ruined condition but stands still amidst the trials of weather and damage since constructed.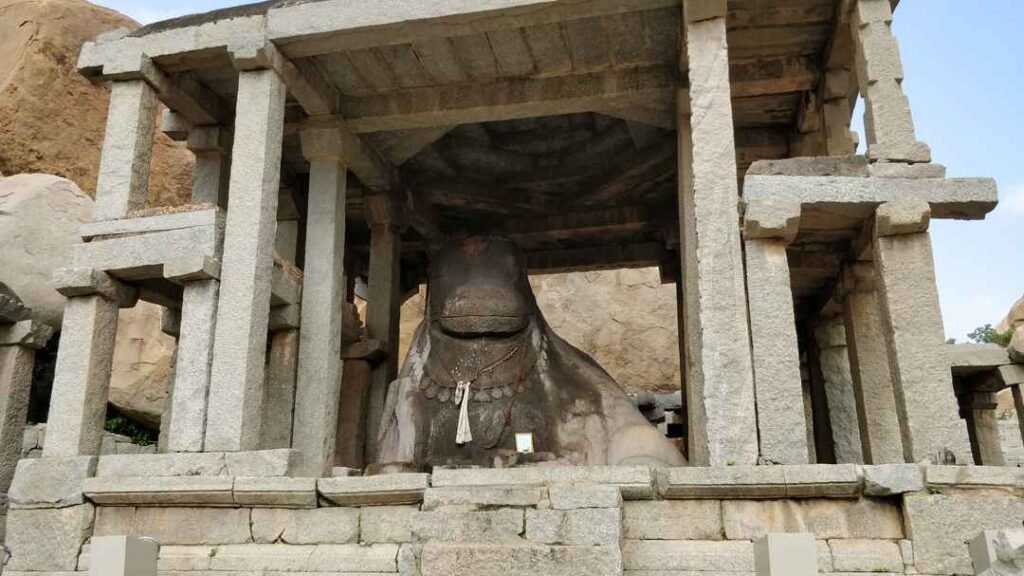 Things To Know For Tourists
Timing: 7:00 AM – 8:00 PM
Entry Fee: No entry fee required
Photography: Allowed
Pets Are Not Allowed
Alcohol/Smoking Is Prohibited
Respecting The Customs And Rituals Is Mandatory
Best time to visit: From November to February