The attractions in Hampi are spread over a very large area (25sq km). Visiting these attractions involve a good deal of walk (trek), cross the river in a coracle, ride a moped or even hire a local taxi (auto-rickshaw).
Even in the best scenario, you would have walked almost 3-5 hours of the day.

You're going to see two possible itinerary options (variants) below to see Hampi in a day's time.
Look at these and pick the one that interests you. You can even go a bit creative with both, based on your interest, stamina and the mode of transport (bike vs bicycle vs auto-rickshaw vs on foot!).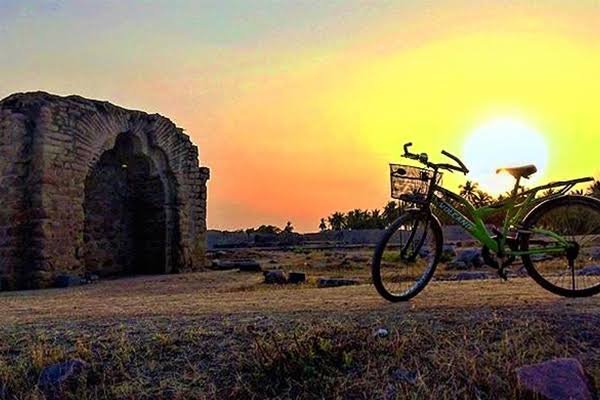 For the sake of convenience, the main attractions in Hampi are listed here based on their relative closeness.

Main Attractions in Hampi.
Group 1 Hemakuta Hill – Sasivekalu Ganesha, Kadalekalu Ganesh – Virupaksha Temple – Hampi Bazaar.
Group 2 Achyutaraya Temple – Courtesan's Street – Kodanda Rama Temple – Chakratheertha (Riverside Trek) – Sugriva's Cave – Narasimha Temple
Group 3 Purandara Mantapa – Ruined Bridge – King's Balance – Vittal Temple – Vittala Bazaar
Group 4 Laxminarasimha – Badavi Linga – Krishna Temple – Chandikeshwara – Uddana Veerabhadra Temple
Group 5 Underground Temple – Noble Men's Quarter – Muhammadan Watchtower – Palace of Krishnadevaraya – Hazara Rama Temple – Pan Supari Bazaar.
Group 6 Queens Bath – Mahanavami Dibba – Pushkarni – Secret Chamber – King Audience Hall – Zenana Enclosure – Lotus Mahal – Elephant Stable – Guards Quarters
Group 7 Bhima's Gate – Ganagegitti Jain Temple – Malyavanta Hill – TalariGhata Gate – Vitthala Temple
Group 8 Pattabhirama Temple – Archeology Museum.

Start the itinerary with Group 1. This is located very close to the Hampi bus station area. You'll do the whole of Group 1 on foot. All of these are walkable to one another.
Though you can explore Group 1 in any order, start from the slops of Hemakuta Hills. The main highlights of this hill are the two massive images of Ganesha, the Sasivekalu Ganesha, Kadalekalu Ganesh. Further up in the hill are a large number or old temples.

Once the Hemakuta attractions are done, head to Virupaksha Temple. From there you can go ahead and explore the Hampi Bazaar, starting from Virupaksha Temple and Monolithic Bull pavilion at the far end of the Hampi Bazaar.

Once Group 1 is done, you've two options:
Option 1: Trek along the riverside till Vittala Temple (You'll see Group 2 & 3).
Option 2: Ride bicycle/Bike/Auto Rickshaw towards the Royal Center (You'll continue with Group 4,5…)

You can either go for Group 2 or Group 4. So you'll need to decide based on your interest. Group 2 is essentially a trek along the riverside till Vittala Temple. If you are on a moped, you can not take it along in Group 2 route. Leave it at Hampi bus station area.
Let's Option 1 first, start from the Monolithic Bull (Nandi) at the far end of the Hampi Bazaar area. A short trek across the Matunga Hill will bring you to the middle of the Courtesans' Street. On your right in the Achyuta Raya's Temple. Once this temple is visited, trek along the Courtesans' street till the riverside. You'll pass the Rangatha Temple with a beautiful reclining Vishnu image in it and the Varaha Temple.

You'll cover the Kodandarama Temple with its courtyard facing the whirlpool called Chakratheertha, formed by the river in front of it. There are quite a few attractions – mainly large carvings on the boulder faces – to be discovered in this locale ( see Riverside Ruins). You'll need to scramble through the unmarked boulder strewn riverside to find these.
Sugriva's Cave, the Narasimha Temple overlooking it from the hilltop appears on either side of the trail.
A little ahead the trail passes through a crumbling two storied gateway. And the King's Balance before ending at the backyard Vittala Temple complex. This is the end of the Riverside Trek.
You can trace back to Hampi Bazaar (to pick your bike, Scooter, if that's the case) by the same trail. Or take an auto autorickshaw from near Vittala Temple to the Royal Center (to cover Group 5 & 6)
Let's go back to Option 2, that's you chose to continue on the road route to Royal Center, covering Group 4,5 & 6.
The first stop in Group 4 is the large Krishna Temple complex, through which the main road wiggle past.
Next is a pair of attractions adjacent to each other , the Lakshminarasimha & Badavi Linga. Both are largest icons in Hampi. You'll need to make 2 minutes detour walk off the mainroad, after heading ¼km south of Krishna Temple.
Chandikeshwara and Uddana Veerabhadra Temples (living temple in active worship) are ½km further south on the mainroad. Chandikeshwara Temple has its Yali pillar porch facing the main road. The Lamppost by the roadside has a sati stone beneath it.
About 1 km further south, you'll pass a natural gateway formed by two giant leaning boulders, called Sister Stones (Akka-Tangi Gundu). This completes Group 4 trail.
Now you have two routes to explore the Royal Center area (Group 5 & 6).
The first will take you through numerous unmarked trails to Royal Enclosure, the epicenter of the erstwhile Vijayanagara Empire's capital. For the second, continue on the main road till you see the direction to the the Queen's Bath. This too will eventually leads to the Royal Enclosure.
If you are on a exploratory mode, you'll like the former route through dirt trails.
You can take bicycle/moped near to many attractions in Group 5. For Group 6, you'll walk from one site to another. You would have walked about 3 to 5km cover the main sites scattered in this area.
After Group 5 & 6, head to Vittala Temple, the prime attraction in Hampi. You need to get back to the main road near Kamalapura. Route 7 starts from Kamalapura and ends at Vittala Temple.
If you've already covered Vittala Temple by Option 1 (trek along the riverside to Vittala Temple from Hampi Bazar) can do Route 7 in reverse. Note, Route 7 is the longest (road) route of all (about 5km). If you are on foot , hire an autorickshaw for this stretch.
Bhima's Gateway (a ) and Ganagegitti Jain Temple and by the road side. The road passes through TalariGhata Gate.
Malyavanta Hill is a detour. Car/Bike can go all the way to the hilltop (only motorable hill top in Hampi!).
Route 8 is around Kamalapura. The ASI Museum has a good perspective of Hampi and Vijayanagara. Pattabhirama Temple complex is about 1km from the museum on the road that leads to Daroji Sloth Bear Sanctuary (…that's for another day!).
As you've guessed by now a single day sightseeing is not the best recommendation for Hampi.

You can do it on foot, rent a bicycle or moped, hire a auto-rickshaw/tonga/taxi. All has its advantages and limitations. Mopeds and Scooters (available for rent near Virupaksha Temple and Virupapur Gadde area) are popular since your local commute is efficient.
Nevertheless if you you are in a situation where you have only a day available, see how to get the maximum out of it.
See here a more practical, 3 Day Hampi trip plan. Also a whirlwind 3 hour Hampi Tour idea, if that's what your situation is!

Hampi's attractions grouped for easy sightseeing planning.