The Chandikesvara Temple is an impressive architecture in Hampi which was built during the Vijayanagara Empire which is located by the main road of Hampi. The temple is especially notable for its pillared front hall. Though people think it's dedicated to Lord Siva but the temple is actually dedicated to Lord Vishnu as is one of the famous temples in Hampi which is a large tourist spot for the tourists throughout the year.
History Of Chandikesvara Temple
Chandikesvara Temple is a historic temple in the ruins of Hampi whose exact information hasn't been found yet. It is one of the few temples in Hampi which has not been ravaged completely. A portion of the temple stands still and straight. There are beautiful pillars that have spared devastation and have managed to preserve a wonderful part of history in their construction. However, the temple is not in the exact form as it was earlier during the Vijayanagara empire as it has suffered some amount of damage but still reflects the skilled craftsmanship of the workers of the Vijayanagara era.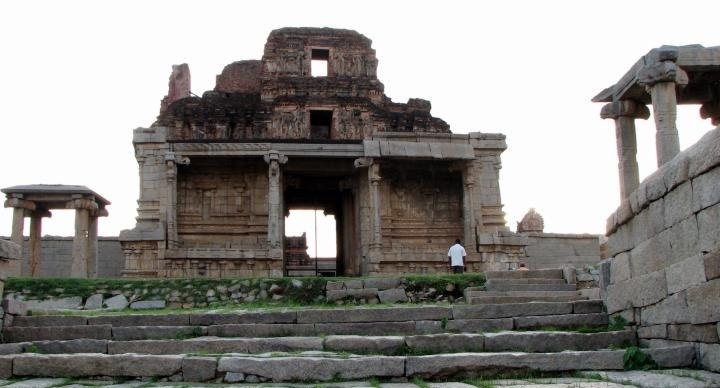 Architecture Of Chandikesvara Temple
The Chandikesvara Temple is prominent in Hampi, especially for its splendid architecture. The temple's entrance is decorated with amazing carvings of Yalis which is considered a fabled creature in Hindu mythology that is part lion, part horse, and part elephant. The temple has a big hall which is located at the forefront of the structure, the most amazing part of the temples architecture is its beautifully carved pillars.
The pillars here in the temple display many themes from Hindu mythology and are a treat for the visitors. The temple basically has two shrines which are located inside its compound. The main shrine is located at the center which contains the sanctum sanctorum of the temple and its considered that it once has an idol of the reigning deity installed there. Also, a small shrine stands at the north-west of the temple's compound.
Things To Know For Tourists
Timing: From 6 am to 6 pm
Entry Fee: No entry fee required
Photography: Allowed
Visit Duration: About 1 hour
Best time to visit: From November to February