The Gejjala Mantapa is a highly impressive structure built with amazing architecture which is located near the famous Vittala Temple. It is one of the structures in the ruins of Hampi whose history is not perfectly known to date as most of the Historians do not know what for it was used during ancient times. Standing on a patch of greenery, this monument is a wonderful example of the craftsmanship of the artisans of the ancient era. It's small in size but its beautiful architecture draws the attention of tourists throughout the year.
Facts and Myths Of Gejjala Mantapa
Nobody knows the exact reason why this ornate structure was build at this place.
Many locals here say that the structure may be had used as a dancing hall in the ancient time, They say that it was a platform where various dance festivals and music were conducted during the ancient times.
History Of Gejjala Mantapa
Gejjala Mantapa was constructed around 500 years ago by one of the rulers of the Vijayanagara Empire. The structure is unique in its own way. However, there is not written inscription or document found to date that defines the exact purpose of the ornate structure. There are carved pillars in the structure from which the locals suggest that the structure may have been used to keep the idols of gods safely inside during the famous annual festival of the Vijayanagara Empire.
Also many believe the structure was used as a dancing hall where artists performed various dance and music festivals. However, presently the location is used by the tourists and visitors only for relaxation after a long walk. It remains a place of interest for those interested to discover the archaeological monument of ancient times.
Architecture Of Gejjala Mantapa
The Gejjala Mantapa is rectangular in shape with exceptional architecture. The whole structure has been build with huge stones. It has an elevated platform which is surrounded by an open pillared pavilion on every side. The domed roof of the Gejjala Mantapa features the typical brickwork of the ancient Vijayanagara style.
There is an intricate pattern of beautiful carvings that exist on the structure which display the beauty of the old Vijayanagara style of architecture. The main attraction is the two rows of pillars that are standing in a concentric pattern around the elevated platform. These pillars act as the backbone of the structure which provides the monument a touch of classic beauty.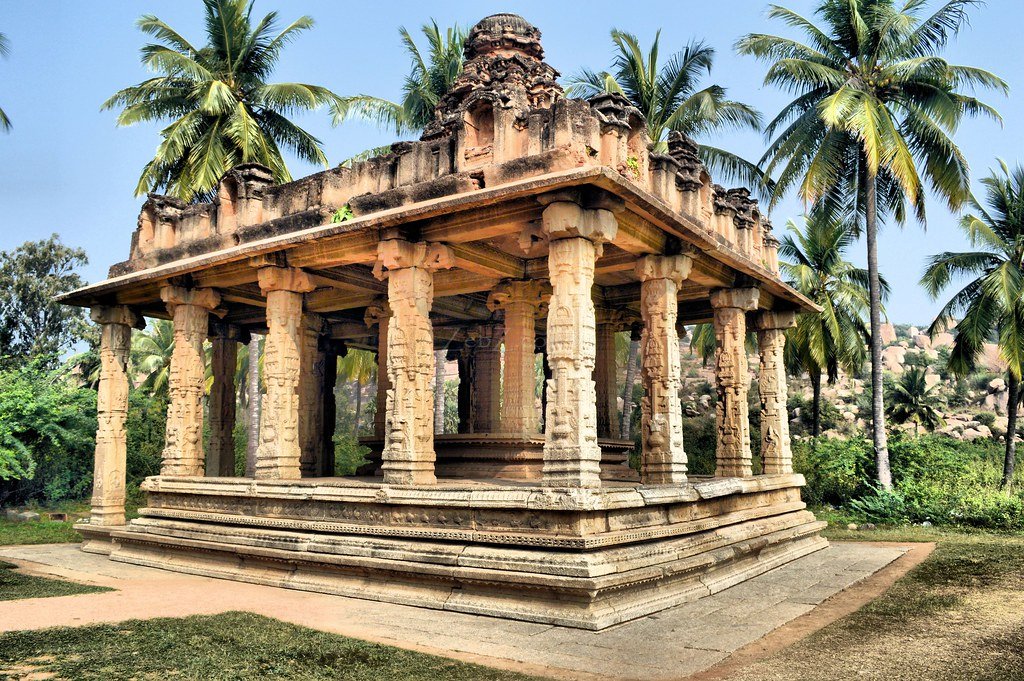 Things To Know For Tourists
Timing: 7:00 AM – 7:00 PM
Entry Fee: No entry fee required
Photography: Allowed
Video Camera: Allowed
Visit Duration: About 30 min
Best time to visit: From November to February