Ganagitti Temple is one of the earliest structures which was constructed during the Vijayanagara Empire, The temple is a Jain temple which is located on the way to the Bhima's Gate on the Kampli road. Being some of the simple structures in Hampi is prominent in the village and is visited by a large number of tourists.
History Of Ganagitti Temple
The Ganagitti Temple is dedicated to Kunthunatha who is the 17th Thirthankara of the Jain faith, The temoke was built by Iruguppa Dandanayaka also known as Iruga who was the minister of Bukkaraya II during the reign of the King Harihara II in the Vijayanagara Empire. The temple was consecrated in the year 1386 A.D.
The Ganagitti temple is also known by many other names such as Kunthunatha Jain Temple and The Oil-Woman Temple. Its one of the main jain temples built during the days of the Vijayanagara Empire in Hampi.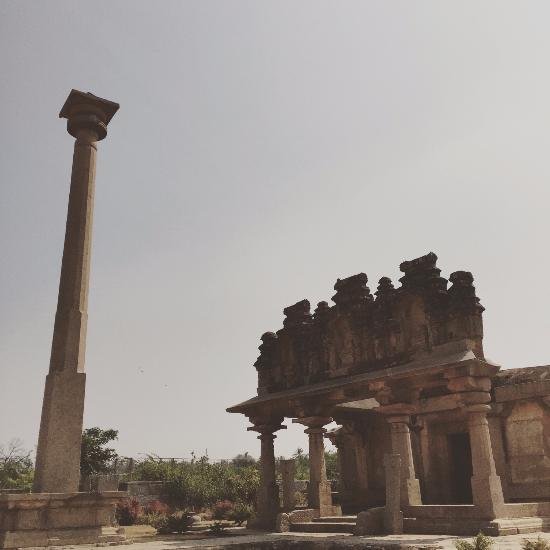 Architecture Of Gangitti Temple
Though the temple is built in the Vijayanagara style of architecture it has many design elements that are derived from the temples of the late Chalukya era. Normally Jain temples are very simple in architecture. The temple has an inner sanctum known as the garbha griha and two halls which are called the antarala ardha mantapa and maha mantapa of the temple. The structure of this temple is made of stone and its form is a stepped pyramid that has six diminishing talas of plain horizontal slabs.
Also, a huge mana stambha or column stands near the portico of the Ganagitti temple. The temple once had an idol, though the idol is no longer present here the stone pedestal on which the idol once stood is still found here. The temple also had footmarks on the platforms built inside which is believed to be of Thirthankara.
Things To Know For Tourists
Timing: 6 am to 6 pm
Entry Fee: No entry fee required
Photography: Allowed
Visit Duration: About 1 and ½ hours
Best time to visit: November to February