Planning a holiday in Hampi India? If yes, then you need to find some good places to visit. So today we will take you on a ride to Hampi. In this article, you are gonna read everything about Hampi that you should know before visiting. So that you can enjoy it to its fullest. If you are a history and mythology lover then this place is a must-visit for you. Even if you are not so much into history, you can still enjoy a Hampi trip. The beauty and architectural design of every place. Every place in Hampi is so finely constructed and carved that it will amaze you for sure.
Where is Hampi?
Hampi is one of the best tourist places. It is situated in Karnataka. Hampi exhibits the true beauty of our history: the ancient temples, remarkable monuments, treasury buildings, cafes, and so on. Hampi is a perfect place to enjoy your holiday. You can relieve all your stress together with exploring the mythological and historical knowledge of India.
Hampi is known for its unique historic importance of Monkey Kingdom. Besides this Hampi also has an ancient Kishkinda. Its importance is described in the holy book Ramayana. It is said that Lord Hanuman was born at this place. This place is adored by many people. It is the 2nd largest city in the world.
If you want to visit by air, then you can go to the nearest airport: that is about 2 hours away from Hampi Bellary/Ballari Another airport is Hubli, it is about 4 hours away. After that, you can book a taxi or bus to reach Hampi.
If you want to visit by railway, then the nearest station is Hospet. It is around 13 km away. It takes half an hour to reach.
Else you can visit Hampi by bus. Although the train is comparatively more comfortable.
Best time to visit Hampi
The best time to visit Hampi is in the month of November – February. Actually, in March the weather in Hampi gets really hot and unbearable. So you probably can't enjoy it in such hot weather. That's why it's better to plan a trip to Hampi from November to February.
Also if you love to learn about the cultures of different states. Then must attend a 3 days festival of Hampi called Vijaya Utsav. A lot of dance, music, drama, firecrackers, puppet shows, and whatnot. A complete entertainment package. This festival is very popular in Hampi. It was celebrated in the month of November but for a few years, it is now celebrated in January.
Another famous festival of Hampi is celebrated from March- to April The Virupaksha Car festival. This festival is known to be celebrated to perform the marriage ritual of Goddesses and God.
There are many historical places to visit in Hampi. You can enjoy the beauty of various monuments. The archaeological structure of every place is so outstanding. Every Idol is carved fantastically. You must visit every place at least once. Now let's discuss where you can visit Hampi:-
Vijayanagar Empire
This city has many temples and monuments from the historic period. There is a river named Tungabhadra, both sides of this river offer an amazing view of Vijayanagar. According to UNESCO, this place is one of the best heritage sites in the world. So don't miss visiting this place.
Virupaksha Temple
It is an old temple. We can call it the definition of the beauty of Hampi. This temple is also known as Pampapathi Temple.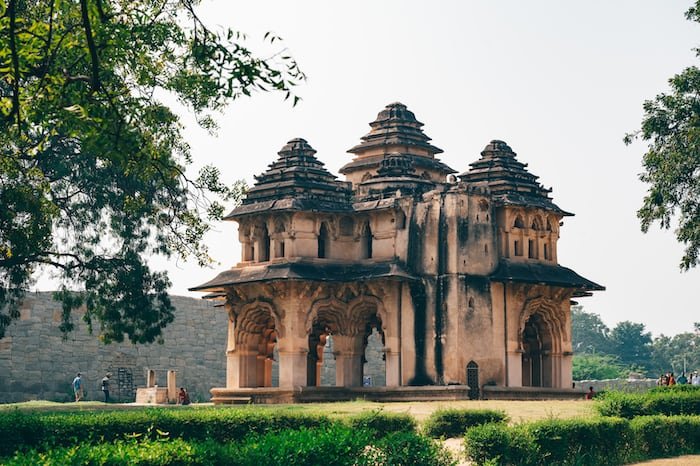 This place is called Lotus Palace because of its Lotus-like structure. The shape of this palace is just like a lotus flower. This palace is one of the most visited places in Hampi.
Yantrodharaka Hanuman Temple
By visiting this temple, seek the blessings of Lord Hanuman. Tourists have to cover a route of around 570 steps to visit this place. Sounds fun right? So don't forget to visit here.
This list doesn't stop here. There are a lot of other places to visit like Tungabhadra River, Kadalekalu Ganesha, Sanapur Lake, Krishna Temple, Explore Rice Paddies, Riverside Ruins, Hampi Flea Market, Prasanna Virupaksha Temple, Archaeological Museum, Hazara Rama Temple, Achyutaraya Temple, Old Palace, Daroji Sloth Bear Sanctuary, Elephant Stables, Hampi Bazaar, Queen's Bath, Zenana Enclosure and so on.
Some Things to Keep in Mind
Don't forget to keep a pair of sunglasses, a hat, and sunscreen while you are traveling.
You can enjoy the ride of many vehicles like cycles, and autos to explore Hampi India.
You can also enjoy the boat service in Hampi.
Hire A bicycle To Explore Hampi
You can explore Hampi with a bicycle. There are several options available for vehicles to rent. You can just give the rent for a day and use the vehicle to explore Hampi. The roads are not so broad so traveling with a small vehicle will help you to enjoy the complete view.
A trip to Hampi is incomplete without visiting the historical temples of this place.
Anjaneya Hill has a beautiful view. So you can enjoy it when you visit Hampi.
Rock climbing
Adventurous activities add moons to a trip. So complete your trip by Rock climbing in Hampi India.
Coracle Ride
Coracle is also known as Dongis. It is one of the best ways to explore the beauty of Hampi. It is a small, round-shaped boat. Enjoy the Coracle ride in Hampi. Capture some good clicks to post on social media. Make sure to keep your phone safe while doing it.
Fishing
Fishing is another activity that you can enjoy in Hampi. The calm atmosphere, sitting vacant, chilling beside the lake, and enjoying the experience of fishing. Perfect!
Boating
Boating is another exciting activity that you can do in Hampi. You can enjoy the boat ride while crossing the river.
Cliff jumping
Cliff jumping is done with some specific equipment. It is one of the adventurous activities that you can enjoy in Hampi.
Hippie Island is another amazing place. People visit there especially to stay in a Hut. Don't forget to bring friends and musical instruments. So you can enjoy the sunset to its fullest.
Final note
Must plan a trip to Hampi India once in your lifetime. Sometimes your soul must take a break. Give yourself a trip, where you can enjoy the scenic natural beauty. A calm atmosphere, some great places to visit, and a lot of good food. You will find everything in Hampi. Happy Holiday!