Badavilinga temple is one of the ancient temples of Hampi. This is the temple of Lord Shiva. As the name suggests linga, this temple has the largest Shivlinga. The Hindu religion worships Lord Shiva in the form of Shivling. This temple is located nearby the Lakshmi Narasimha Temple. Devotees and tourists as well come to take blessings at this pious place throughout the year. In this article, you will get to know everything about the Badavilinga temple.
Timings
This temple remains open for blessings from 5:00 AM – 9:00 PM every day of the week
Entry Fee:
You don't need to pay any fees in this temple
Photography
Photography is allowed at Badavilinga temple
Duration To Visit:
You can spend around one to one and a half hours inside the temple.
Best Time To Visit:
Every time is best to seek blessings from the Lord. But particularly talking about Hampi it's better to visit anytime From November to February
Badavilinga Temple Significance
This temple of Lord Shiva has the largest monolithic linga. It is located in Hampi near Lakshmi Narasimha temple. The Shivling present in this temple has 3 lines carved on it that symbolize the 3 eyes of Lord Shiva. The significance of this temple is its large Shivling. It is made from black stone, and this linga is 3 meters in height. It is said that this temple has been there since the time of the Vijayanagara empire. Devotees come here to seek blessings from many different far and near places.
Legend Associated with Badavilinga Temple, Hampi
The name of this temple Badavilinga is formed with 2 words – badva and linga. Locally the word badva signifies the meaning poor and linga means Shiva. According to legend, an extremely poor lady who works for someone to earn commissioned this Shivling present inside this temple. That's why Badavi Linga temple is known by this name.
Facts About Badavilinga Temple, Hampi
Shivling of Badavilinga temple is placed inside a stone chamber. This chamber is small with one opening on the front side of the chamber. This opening is for devotees to get inside and worship the linga.
One thing about this stone chamber is its design, this chamber has no ceiling. During the day, sunlight comes through the opening of the ceiling and falls on linga that add beauty to the Shivling.
The base of Shivling is circular and large in shape. It draws an outlet which is called a pranala. The pedestal stands on the water bed, as the water channel flows through the shrine, so it remains full of water.
Devotees mentioned that the bottom part of the Shiv Linga is merged in water. This indicates the coming of the most pious river on earth, the Ganges. Lord Shiva controls the flow of this river.
Badavilinga Temple Current Condition
This temple is not left out from the places that were poorly destroyed earlier in the wars of Hampi. But the best thing is that the Shivling remains unaffected. It stands intact till now. The walls of the shrine from the inner side also escaped the damage. Although the Badavilinga temple is quite simple and small yet it is one of the great places to visit Hampi.
The Priest Of Badavilinga Temple Hampi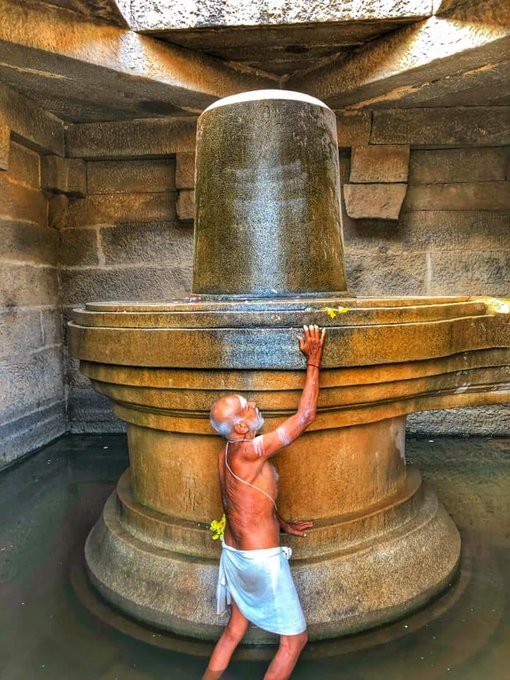 Late K N Krishna Bhat was the priest of this Narasimha temple, Badavilinga temple, and other temples of Hampi. He used to perform aarti and Abhishek of Shivling. After him, his son Raghava is performing his duties. Check out the full news in this article.
How Visitors Can Reach Badavilinga Temple
Hampi is a well-known destination for holidays. Many tourists visit this place every year and seek blessings from the holy places situated in Hampi, together with enjoying the view of different monuments. If you reach Hampi you can visit this Badavi Linga temple without any problem. For reaching Hampi you can choose any of the following modes:-
By Air
If you are choosing to travel by air then you can catch a flight to the nearest town Bellary. This town is the closest place to Hampi which has an airport. So after reaching Bellary you can take any local transport to reach Hampi. It is just about 64 km away.
By Rail
There is no railway station in Hampi. So if you want to travel by train, then reach the nearest town Hospet by rail and then use any local transport to reach Hampi. Hosapete is only about 10 km from Hampi.
By Road
Else you can travel to Hampi by road. Travel by bus, cab, personal car, or any other vehicle. Hampi connects many cities like Mysore, Bangalore, and so on. So you can easily reach Hampi by road.
Final Note
So you are now aware of everything that you need to know about Badavi Linga temple. You must go to this temple once whenever you visit Hampi to get the blessings of the largest Shivling of Hampi. This is one of the temples of Hampi, check out the other places to visit in Hampi;-