The Golden Chariot and Deccan Odyssey trains offer an extraordinary opportunity for travelers to explore the ancient city of Hampi in unparalleled luxury. Hampi, a UNESCO World Heritage Site, is a mythical lost city that evokes ideas of imagination and makes the unreal appear real. The ruins in this magnificent Indian metropolis are a testament to its rich history, and both of these opulent trains offer an unforgettable adventure through the heart of India.
The Golden Chariot is known for its exceptional facilities and hospitality and provides travel to some of the most famous locations in south India, including Hampi. The Pride of Karnataka excursion allows travelers to experience the wonders of Hampi, along with Bandipur National Park and Mysore. The train offers world-class amenities, including a spa with Ayurvedic treatments, a small gym, and a variety of Indian and foreign cuisines.
This luxurious train provides a variety of packages. While the Jewels of the South trip brings you to locations like Chettinad, Mahabalipuram, Kumarakom, and Cochini. The other two excursions are the Sojourn of India and the majestic Karnataka. It cost around 1. 9 lakhs 4. 41 lakhs
Deccan Odyssey
The Deccan Odyssey, also known as the Blue Train, features opulent décor, multi-cuisine eateries, an ayurvedic massage facility, and a salon among other cutting-edge facilities.
The Deccan Odyssey is another luxurious option that offers seven-day excursions to see locations in Maharashtra, Gujarat, Udaipur, and other states. The Jewels of the Deccan tour covers the wonders of Ajanta and Ellora, Hampi, and Hyderabad, while The Hidden Treasures of Gujarat includes stops at destinations such as the Champaner-Pavagadh Archaeological Park and Ranthambore National Park. It cost 7. 35 lakhs 11. 10 lakhs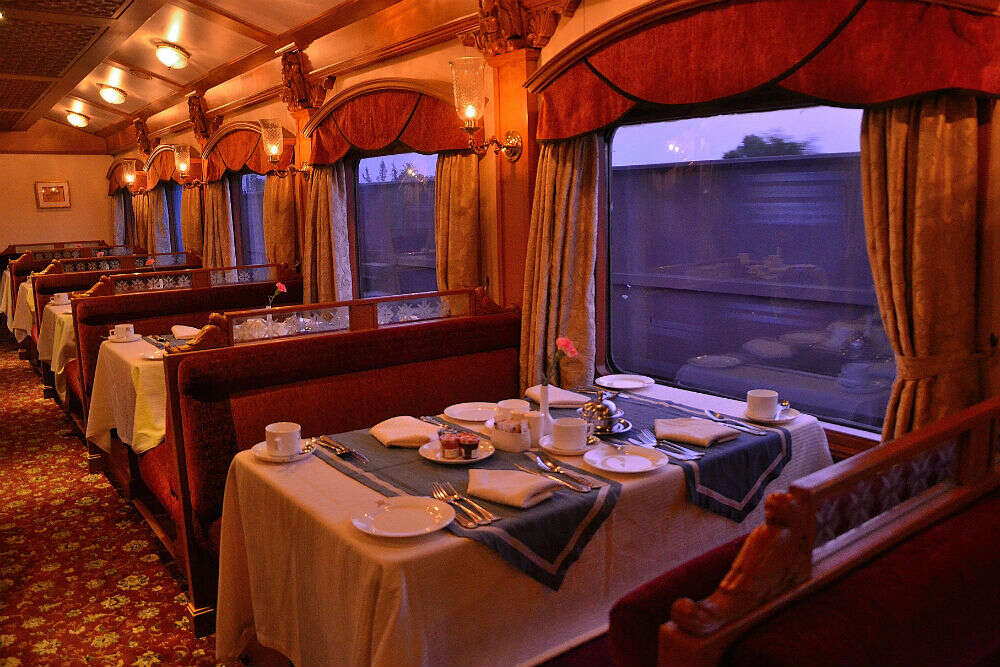 Both trains offer a once-in-a-lifetime opportunity to experience the magic of Hampi, with the added benefit of world-class amenities and comfort. So, if you want to explore the mythical lost city of Hampi in style, hop aboard the Golden Chariot or Deccan Odyssey train and embark on an unforgettable journey through time.