With the cooperation of the Karnataka Railway police, the Sood Charity Foundation launched an emergency oxygen supply in the Ballari railway station. It was inaugurated by the DSRP Venkanagowda Patil on Tuesday.
The DSRP addressed the public by saying that the emergency oxygen supply will be working in the district in the form of a control room. The ones in extreme need of oxygen shall contact the control room seeking oxygen support. The area covering a radius of 80-100 km from Ballari shall avail this support.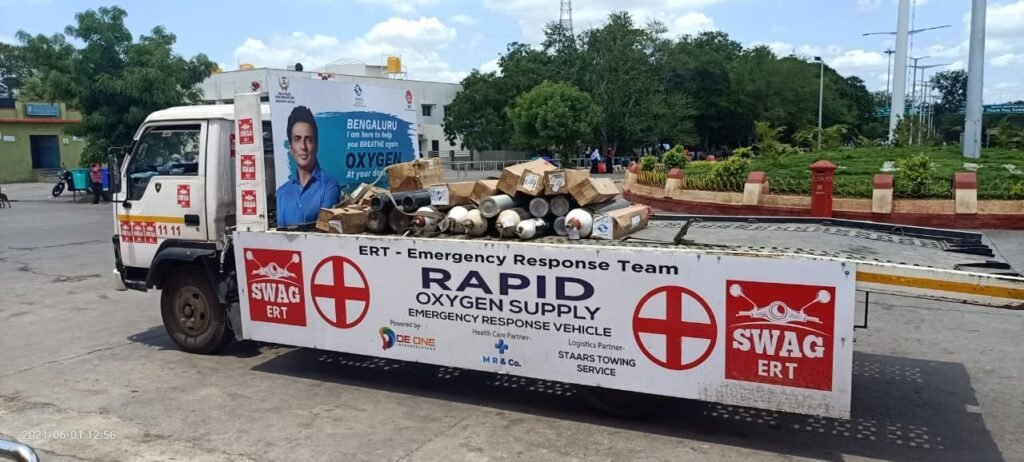 Although the cases in the district have seen a decline, the public has been continuously ignorant when it comes to safeguarding themselves and taking precautionary measures, added Venkanagowda Patil and urged the public.
Sonu Sood Charitable trust member Amith spoke to the public and said that the intention of supplying free oxygen to the needy ones across the country during complicated situations like this has been of great help to eradicate the shortage of oxygen to the COVID patients.
Ballari has been provided with 20 oxygen cylinders as of now. According to the need and demand, the supply is subjected to vary, The people of the district are requested to make proper use of the emergency oxygen supply, said Amit.
The people shall call 7069999961 this number to avail the facility. The necessary actions to be taken when using the cylinders were explained to the Sonu Sood Charitable trust volunteers.